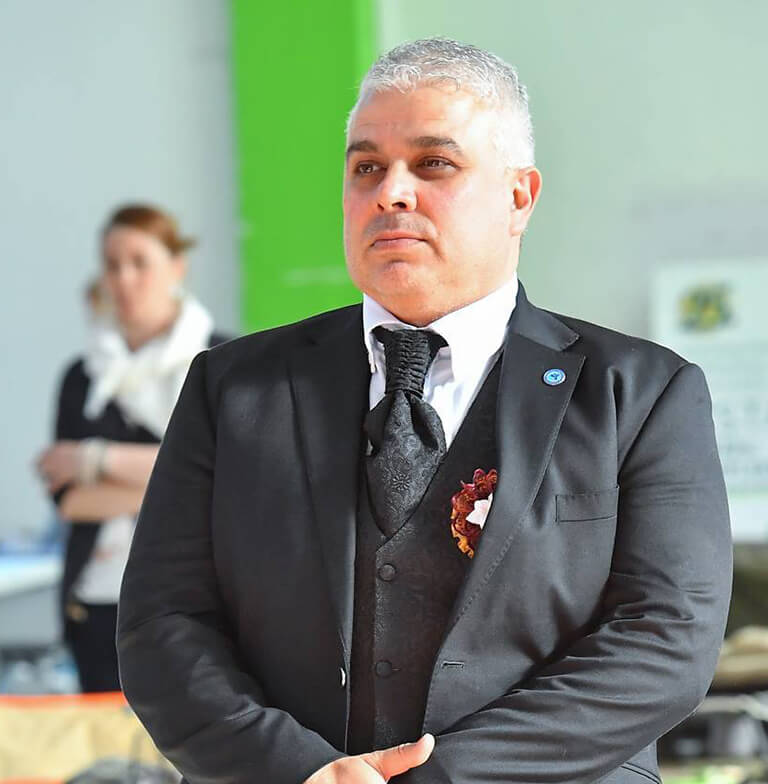 Savvas Is the President of the Cyprus Kennel Club and he is an All-Rounder International Judge since 2014. Born in Nicosia 1969, he is fluent in Greek and English, and proficient in Sinhala.
He is a breeder of English Bulldogs since 2001 under the kennel name MerrivinBrook Kennel (2007) and prior to that under Queen Sudu Club (2003). 
He is the most highly rated and experienced breeder for English Bulldogs in Cyprus and the most successful, with countless BIS, BOG, more than 110 BOB, Winner of 12 BOB (out of 16) at Specialty Bulldog Club Shows and the Best Breeder in Show on numerous occasions.
He has started breeding Norwich Terriers, and he is an owner of a Bichon Frise and a Poodle. In the past, he has owned a Rottweiler, Shar Pei, Boxer and a Collie.
He owns 17 Grand and Multi Champions,12 of them-his own purebreds, of which 10 are also International Champions.
His dogs have been used as foundation stock in several countries: U.K, France, Italy, Germany, Canada, Greece, Bulgaria, Ukraine, Cyprus and Brazil.
Savvas is also the Founder (2003) of the English Bulldog Club of Cyprus and he is the President of the club since then. 
Furthermore, he is the Founder (2013) and President of the Cyprus Molossus Club, and the Founder of the Cane Corso Club of Cyprus and has been the General Secretary until present.   
He was General Secretary of the Cyprus Kennel Club from 2004 until 2008 and also Treasurer from 2006 until 2008.
He was member of the FCI breeding and judges committee from 2006-2008.
He has been the Show Manager and Trainer (under the Cyprus Kennel Club) for Stewards and Secretaries for many years.
Savvas is the Organiser of the English Bulldog Specialty Dog Show in Cyprus, all Molossus Breeds Specialty Dog Shows and Cane Corso Dog Shows.
He has judged countless Specialty Shows for English Bulldogs and Molossus breeds.
He has judged all over the world in countries such as: United Kingdom, Cyprus, Italy, Greece, Slovakia, San Marino, New Zealand, Australia, Belgium, Ukraine, Kazakhstan, Uzbekistan, Srilanka, Georgia, Bulgaria, Estonia, Latvia, Finland and Russia.