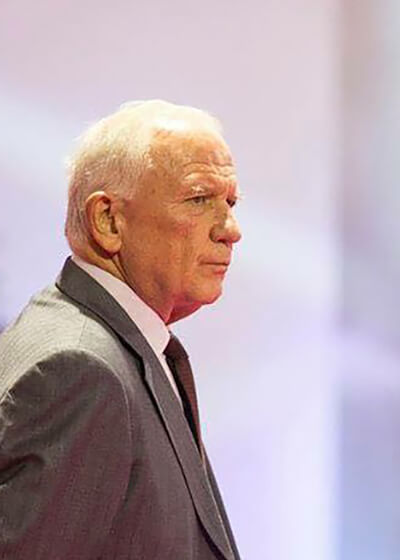 Beauceron
Welsh corgi pembroke
Welsh corgi cardigan
I am collie and samoyed breeder. I have been breeding for 47 years and there are 2 Youth European
Champion, 1 reserve European Champion and many International Champion collies in my kennel. It was a 
really great succes on 2008: my ownbreeding young collie male won Res.CC title in Birmingham at the
Crufts Show. My kennel affix : "Kőakói collies".
Later I founded  the North's Star samoyed kennel on 1987.
There were  5 Multi and many International Champion samoyed in my kennel.
I am International FCI  judge from 1981. I have judged in 45 country, in Europe, Asia, South America,
South Africa and Australia. Some traditional or "big show" for example can be interesting where I was judge.
Lisbon Centenary Show
Madrid
Milano two times
Moscow Eurasia Show two times
St.Petersburg "White Nights" Show four times
Dortmund Europasieger Show
Tulln Bundessieger Show five times
Helsinki Winner Show two times
Stockholm Winner Show two times
Lilleström Nordic Winner Show
Turku Top Nordic Show three times
Reykjavik Winner two times
Amsterdam Winner
Luxemburg Winner four times
Paris Longchamp and Lyon – French Championat four times
Welsh Kennel Club Championship Show
Sao Miguel Azores two times
Johannesburg
Buenos Aires
Sao Paulo
Sydney
Melbourne
Beijing
Contest of Champions Ancona
Champion of Champions Tallin
Champion of Champions  Riga
Contest of Champions London
Middle – East European Dog Show Budapest – 1999 
European Dog Shows:
Budapest – 1993
Genova – 1998
Tulln – 2005
Zagreb – 2007
Budapest – 2008
Geneva – 2013
Warsaw – 2018
Budapest – 2021 
World Dog Shows:
Budapest -1996
Poznan – 2006
Bratislava -2008
Paris – 2011
Budapest – 2013
Leipzig – 2017
My judge license : International FCI all rounder judge.
I have judged  Best in Show in 40 different countries.
I speak english, german and russian.
Other current activities:
I am the president of Collie, Sheltie, Corgi Club in Hungary from 1987 member of Board of Judges of the Hungarian Kennel Club from 1989 member of Presidium of the Hungarian Kennel Club from 2013.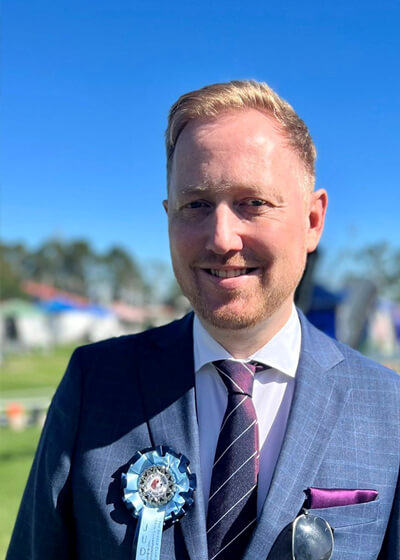 My interest in dogs began as a child. I was fascinated about dogs, but it was not until I was an adult I got my own. I soon became interested in the different kinds of dog-related sports, with the main interest in showing dogs. 
I have been breeding Beagles in Denmark for more than 14 years under the prefix "Symposions", and have produced champions both domestic and abroad. 
As an exhibitor, I have had great success in European shows with several group and Best in Specialty show wins. In 2022, one of our US imports won the #1 top stud dog award for all breeds by the Danish Kennel Club. 
I have judged in several European countries, incl. Denmark, Sweden, Germany, Belgium, and The Czech Republic, and I have recently judged in Sydney, Australia. 
I strongly believe in the importance of club and dog community service, and have served as a regional as well as national board member and chairman of the Danish Beagle Club. I have also served as a regional board member of the Danish Kennel Club, and I am now connected to the Danish Judges Community, that arranges seminars and other events for the Danish judges. 
I am authorized to judge entire FCI Groups 6 and 4 at championship level, and at the moment I am working on FCI Group 2. 
In my personal life, I live with my partner Karin and my son. Our family love dogs, and they play a vital part of our lives.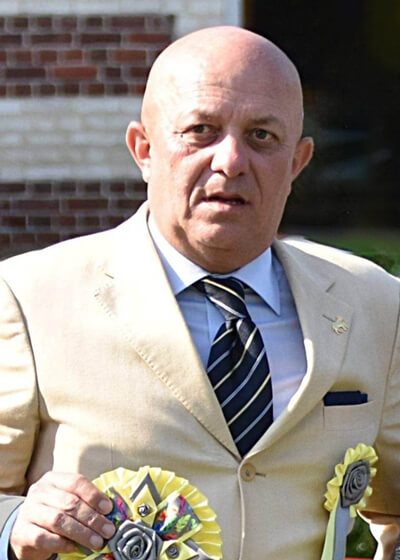 Mrdak Milovan from Serbia F.C.I. show judge for the 2nd and 3rd groups. Experiences from dog shows in Europe and USA. Specializing in group 2. nd. Judged specialty shows of molossoid breeds /dogue de bordeaux, mastiff, bullmastiff, cane corso, presa canario, dogo argentino, fila brasiliero, dogo malorqin,  american buldogs in USA and Europe. Realized a few seminars about breeds d´Dogue de bordeux, Cane corso. The first president of molosses club in ex-Yugoslavia. 
Today president of the Serbian Dogue de Bordeaux club. He actively presents his own dogs at European and USA shows. Wrote a few articles about moloss breed. More than 25 years working as a dog trainer in own school Dog master.
Today active breeder of Dogue de Bordeaux breed.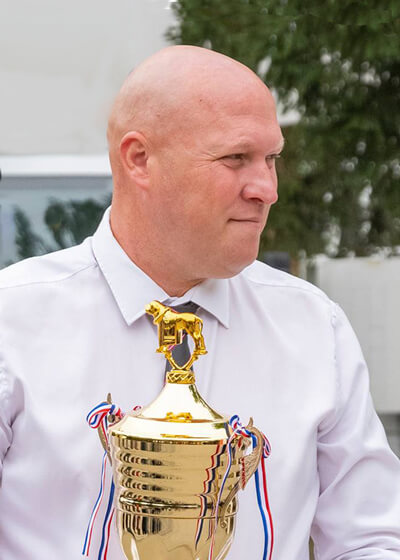 Landseer
Black Russian Terrier
Chow Chow
Basset – all
I have been involved with dogs since my childhood. My first breed was the Labrador Retriever and later on I bred under the kennel name Anoneel both Pugs and Rottweilers.
I bred and owned multiple Champions in all three breeds.
Today I am not breeding any more because I am extremely busy with our work and travelling. My wife Suzana is also an International FCI judge and we run two extremely busy and successful grooming shops. 
At the moment we own a 13,5 years old Irish Terrier female.
I became a Croatian Kennel Club all breed judge in 2000 and I have judged all around the world at the National, International and Specialty shows. 
I speak fluently English, Russian, Hungarian and Croatian.
Dogs are my passion and a big part of my everyday life. Other than that I enjoy tremendously my other hobby – catfish fishing.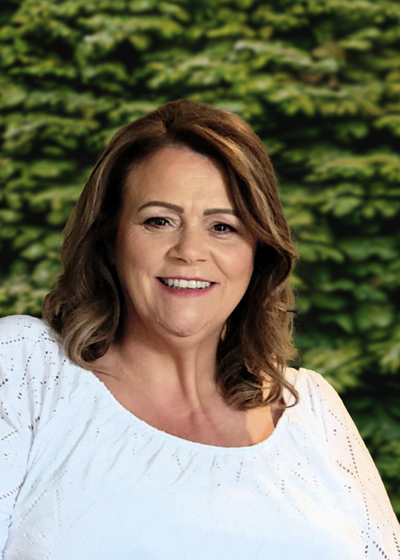 I have been actively involved in the breed since 2005 when my ex-husband and I stumbled on Shar Pei when looking for a new breed to show, we had taken a break from showing while raising our young family and felt the time was right to get back into the show ring.  We fell in love with the breed, a feeling I am sure you are all familiar with. We actively showed together under our affix of Meixiu. After we parted ways, I continued to be actively involved in breeding and showing and judging on my own and my most notable achievements were breeding Ch. Meixiu Makin Mischief, the first and still only UK black female. She won the CC and BOS at Crufts in 2014.  In 2018 her son Ch Meixiu Keeps out of Mischief went one better winning BOB at Crufts. I still lightly show and I am looking forward to campaigning my new young hopeful in 2023. 
I have been actively involved in the breed clubs in the UK since owning the breed and I was a serving committee member of the Shar Pei club of Great Britain for many years and held office as the show manager & secretary. During my time on the committee, we organised championship shows, weekend showing events and health seminars and were lucky enough to persuade Linda Tintle to attend from America to present to our members. I was also involved in organising and helping to run the judging seminars for people wanting to begin judging. In recent years and up to present I am a serving member of the Midland Shar Pei club. 
I have been judging in the UK since 2011 and I am passed to award CC's at championship level. I am honoured to have been asked to judge such a prestigious show and I look forward to meeting you all getting the opportunity to assess your dogs.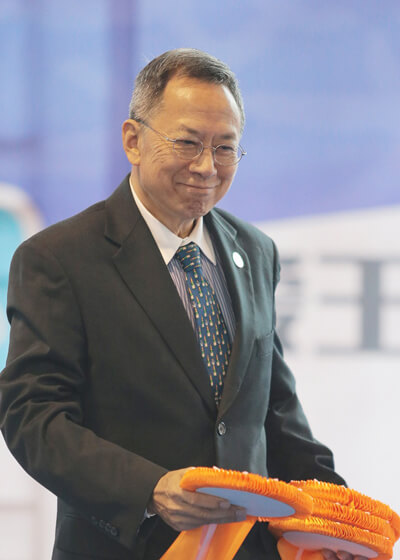 Shar pei – Jubilee Specialty Show Shar-Pei klub Slovensko
MATGO SHEK HOO LAW  – HONG KONG, CHINA
Matgo Law is a native of Hong Kong with his parents migrated there from Guangdong Province, the Mainland China. He loves dogs and animals since childhood however it was legibly not possible to have a dog in downtown environment of Hong Kong. He started with a dog in the mid-sixties of the last century when his family moved to outskirts of the city. He later on involved in preservation of a Chinese breed Shar Pei originated from his parents' home county, and maintained a small breeding kennel under the 'DOWN-HOMES' prefix. He had introduced Shar Pei to the western dog world in early 1970's, and the breed is well established in all purebred dogs loving countries over the world nowadays.
Matgo's first judging assignment was in July 1979. He was invited to judge the 2nd National Chinese Shar Pei Specialty Show of the Chinese Shar Pei Club of America Inc. in Southern California. He was again invited to visit United States to officiate Shar Pei Specialties several times in the States of Arizona and Greater Detroit in 1990's, and to Denver Colorado 2009. His latest visit to America was in February 2017. A second invitation of the Arizona Chinese Shar Pei Club of Phoenix. Matgo has as well judged Shar Pei specialty shows in England, Slovenia, Greece, Denmark, Germany, Italy, and France. He also judged FCI All breed Shows in Hong Kong, Philippines, India, Thailand, Malaysia, Indonesia, Taiwan, Singapore, Japan, Australia, New Zealand, Estonia, Tatarstan, Russia and Italy.
He judged open shows in many cities in Mainland China when purebred dogs became popular among families in the last century, including cities of Beijing, Guangzhou, Wuhan, Chengdu, Kunming, Shenzhen and Macau. With the establishment of China Kennel Union in 2006, Matgo was invited to more opportunities to judge the FCI All breed Shows in the Mainland, namely the Capital City of Beijing, Hangzhou, Jiangsu, Weifang, Taizhou, Zhongshan, Fuzhou, Zhengzhou, Haining, Tianjin, Namjing and Chongqing.
Matgo had served as secretary and show committee of the local kennel clubs for over 40 years and stewarded local dog shows. He is specially interested in and studied rare breeds of dogs, and gives lectures of purebred dog matters in Hong Kong and overseas.
Matgo Law was licensed by China Kennel Union and is invited to the judging panel of the World Dog Show Shanghai 2019. He surely has the great pleasure to be a member of the CKU family.